Yet another new arrival of the Richard Mille variety but this one is really rather special, for several reasons!
Firstly because no one ever thought that this model would be repped to any half decent level, mainly because it's an $800,000 watch. I'm talking of course about the RM027-02, the last in the Rafael Nadal Tourbillon range, in white carbon on orange nylon strap.
Gen for reference...
It's quite a watch, and the first incarnation of the rep just left me (and most other RM fans) cold! Terrible pattern on the carbon case, far too thick, sloppy movement decoration, and so on and so on...
Pretty awful right? Second time around, however, looked to be a much better attempt, so I ordered immediately! And she arrived today...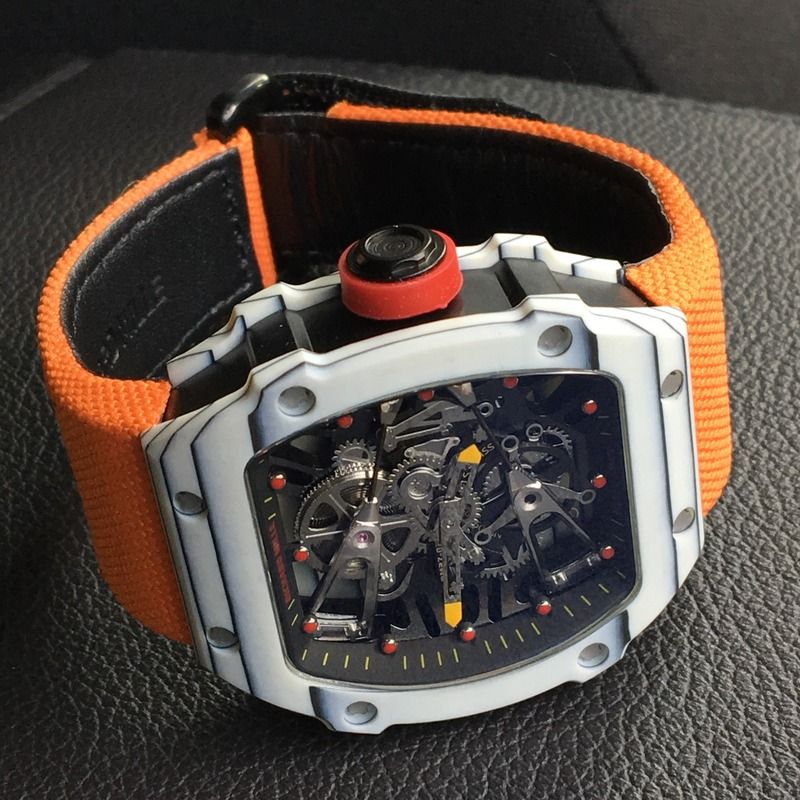 Now let's get the first criticism out of the way, no it isn't a real tourbillon, it was never going to be, so yes all the gears and the tourbillon itself are faux... but with all these decorate AP and PP movements we can hardly complain about that, and what did we expect?!
What is impressive is just how high quality this watch feels. Ok it may not feel like $800,000 but it certainly feels expensive. I had suspected that, like a lot of RM reps, it might feel overly top heavy and the strap might be a little loose and the whole thing just feel a bit unbalanced and fragile, but this is probably one of the sturdiest feeling watches I own. The fit of the strap into the case is superb, no unsightly gaps like with the nylon straps on the RM035, and it manages to be lightweight without feeling cheap, the finish is genuinely superb!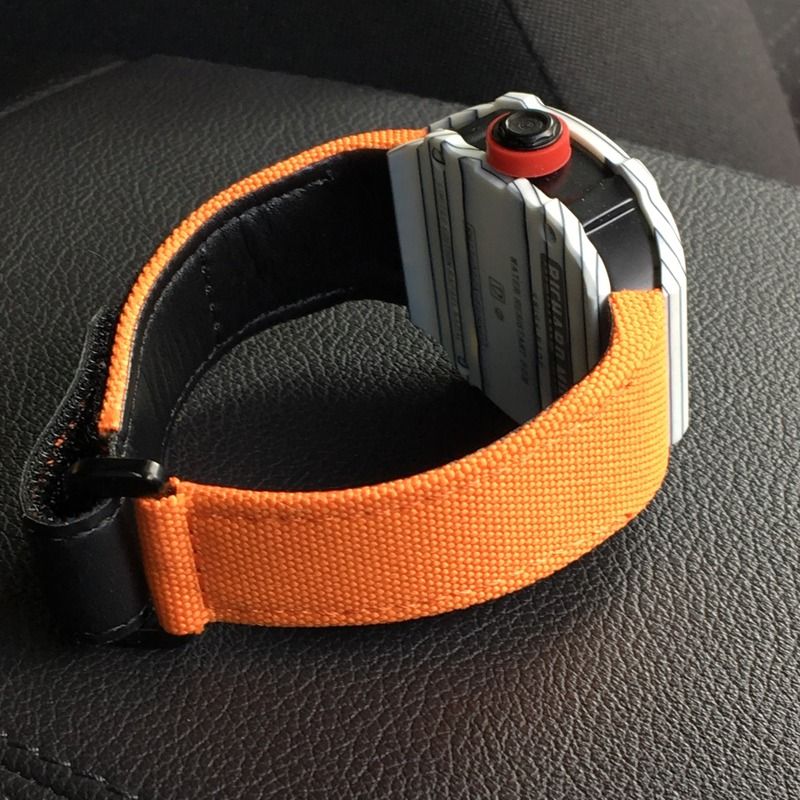 ... and the red band around the crown is actually rubberised rather than hard plastic as with other models, which makes for a lovely winding and setting feel.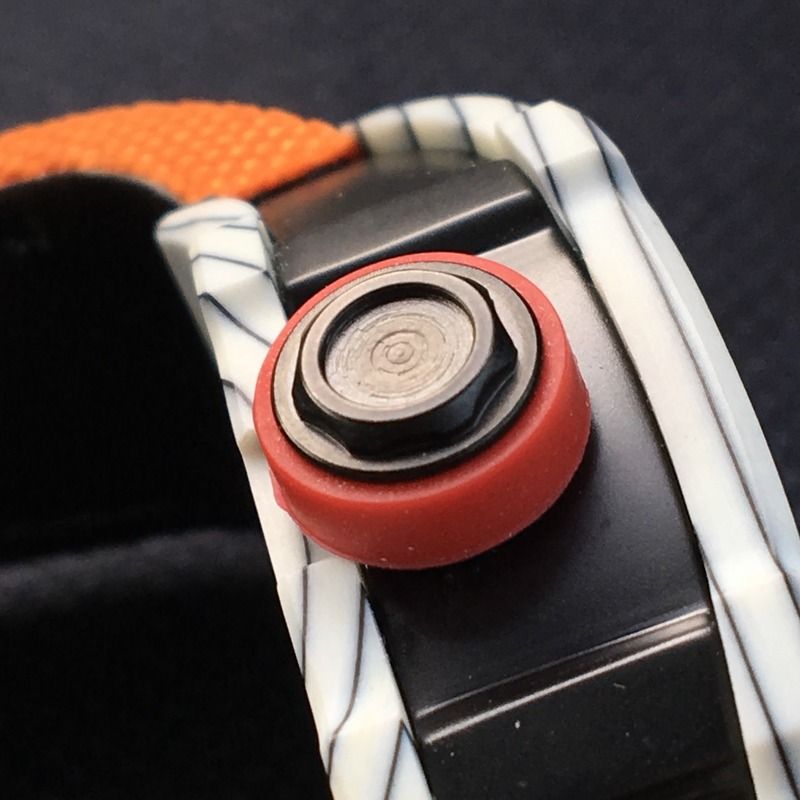 That brings me to the second thing that's special about this RM rep. It's size!!!
At 40mm diameter and 16mm thick it's the first RM rep I've owned that you could call small, and that's important for me as I have small wrists, but also important for the RM027-02 because it is a lightweight slimline sports watch and not a big tall bruiser like the RM011. 16mm isn't thin by any stretch, but compared to the RM011 and RM035 reps at 18mm plus it really does make a big difference (I'll do a side by side with my RM055 later to illustrate). This means it's the first RM rep in my opinion that you could call imminently wearable. It even fits under a French cuff for Christ's sake!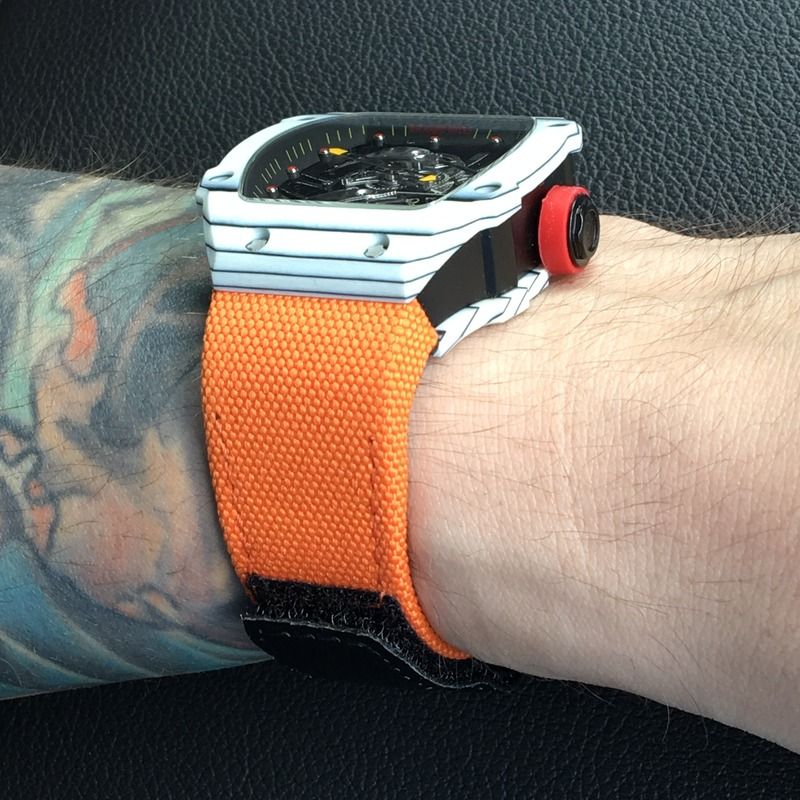 Then there's the carbon bezel and caseback, that all important feature that they got so horribly wrong on the first rep. Here it really is spot on, a lovely pure white with graduated black layers, and a texture that I can best compare to that of stone or perhaps bone, it's really lovely...
So all in all I'm pretty happy, pretending to own an $800,000 watch while driving round in my Vauxhall, hahaha! This will be a true summer watch though, teamed with shorts and t-shirt more so than shirt and trousers I suspect!!
The closest thing to an RM super rep??? That might be going a bit far, but it's certainly the best RM rep on the market at time of writing... here's waiting for the upcoming RM011, but it would have to go some to be as good as this for my wrist!!!
Thoughts from the floor?!?
DC